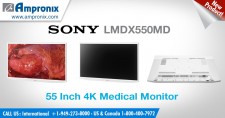 Ampronix Broadens Its Medical Monitor Display Line With State-of-the-Art 4K 8MP Display Monitor Models From Sony and HYBRIDPIXX.
IRVINE, Calif., August 14, 2018 (Newswire.com) - Ampronix is keeping itself at the forefront of healthcare technology by equipping healthcare providers with high-quality medical displays from HYBRIDPIXX and Sony.
"Converting to ultra-high-definition 4K technology in the medical industry is now a standard in 2018," said Michael Thomas, Director of Marketing at Ampronix. "We are honored to help lead this technological shift, working with our partners to supply the latest in state-of-the-art medical monitor innovation."
We are honored to help lead this technological shift, working with our partners to supply the latest in state-of-the-art medical monitor innovation

Michael Thomas, Director of Marketing
The HYBRIDPIXX medical display is the ideal choice for reproduction of multiple images. This 8MP 4K 58-inch vivid, precise, display delivers consistent uniform images that can be scaled and maneuvered to highlight the most vital picture and minimize the less important. Users have the ability to view 6-18 separate images simultaneously in the Cath lab or operating room on one display. The lightweight monitor delivers the stability and reliability of a custom engineered hardware solution suitable for most medical applications.
Sony has combined 4K 8MP and 2D/3D imaging technology in four of their latest surgical monitors. The displays are able to upscale a video signal from HD to 4K, allowing medical teams and surgeons to view high-resolution images from endoscopes or surgical microscopes at a higher resolution.
The 55-inch LMD-X550MD and the 31-inch LMD-X310MD 4K 2D LCD monitors display high-quality two-dimensional color video images with a 4K resolution. These models can be used with surgical endoscopes and laparoscopic camera systems.
The 55-inch LMD-X550MT and the 31-inch LMD-X310MT 4K 3D/2D LCD monitors display both 2D and 3D video images in 4K or HD. The monitors can be used with surgical robotic systems such as da Vinci and with endoscopic/laparoscopic systems, surgical microscopes, and other compatible medical imaging systems.
All monitors have a larger screen with a narrow bezel which maximizes screen size. They also come with Sony's Advanced Image Multiple Enhancer (A.I.M.E. ™) technology, which can be used to accentuate subtle color differences or highlight the outline structure of displayed objects.
Ampronix currently has Premier Pricing available on all products mentioned in this release.
Contact Ampronix:
Email: info@ampronix.com
International Sales: +1 949-273-8000
Domestic Sales: 1800-400-7972 for US and Canada
Follow Us:
Facebook, Twitter, Linked In
About Ampronix
Ampronix is a renowned authorized master distributor of the medical industry's top brands as well as a world-class manufacturer of innovative technology. Since 1982, Ampronix has been dedicated to meeting the growing needs of the medical community with its extensive product knowledge, outstanding service and state-of-the-art repair facility. Ampronix prides itself on its ability to offer tailored, one-stop solutions at a faster and more cost-effective rate than other manufacturers. Ampronix is ISO 13485:2003, and ANSI/ESD S20.20-2014 certified.
Source: Ampronix
Share: